Designers/creative folk..Please help with..ideas for bathroom reno....
Hi, I have received great advice before on this site re this reno...and I am making slow progress on determining what I need now vs in the long term vs budget vs many other factors....I have written more below the pictures...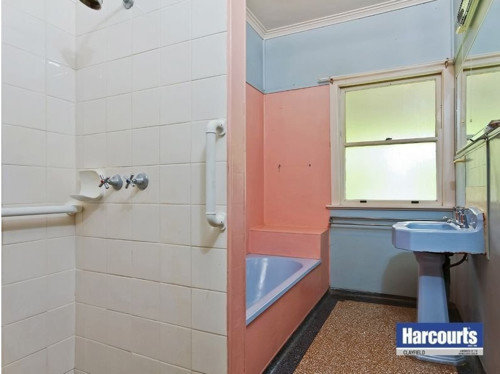 original bathroom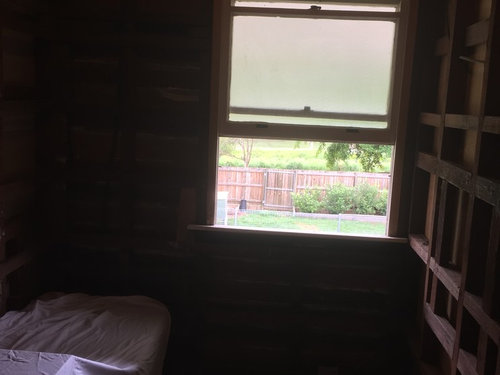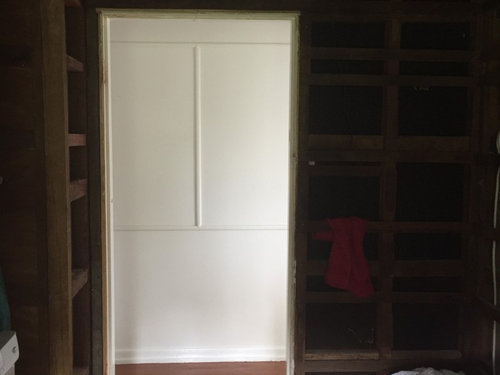 current picture of bathroom (second one is looking into hallway. first one is looking out onto backyard and brook/dog offleash park behind my back fence.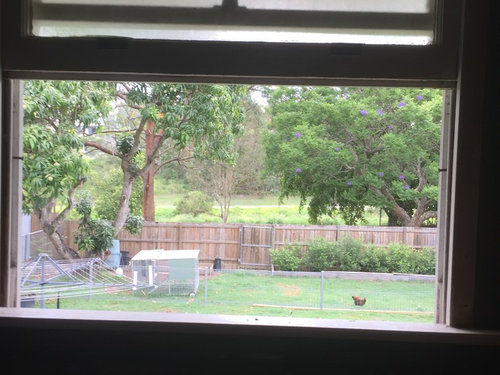 closer look through back window - wooden fence is my back fence. my chickens behind wire fence.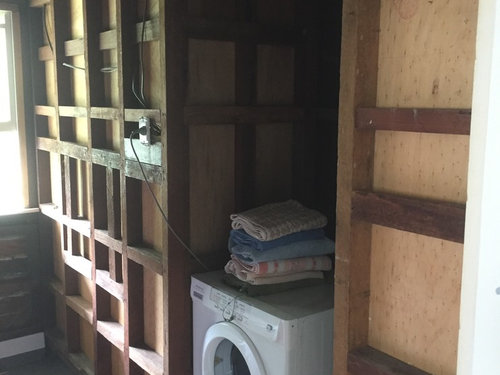 looking into bathroom from hallway. closest bit of wall is a hall cupboard. then drier is sitting in space that i would like to fit washer and drier in bathroom cupboard. to the right of the wall is a bedroom. behind where all the wires can be seen on wall, is a built in bedroom cupboard (1960's style).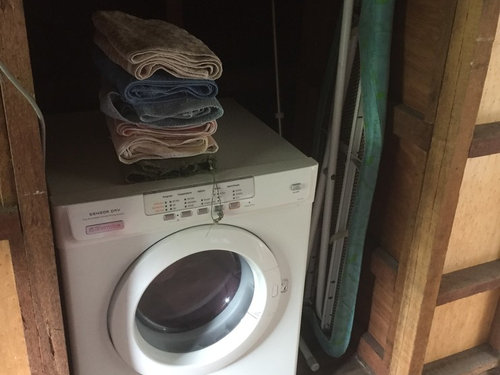 closer view of "laundry cupboard" that will sit in the bathroom and hide my front loader and drier.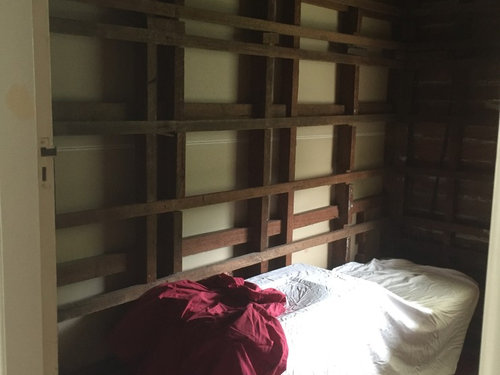 current view on LHS long wall. looking in from hallway and entry to bathroom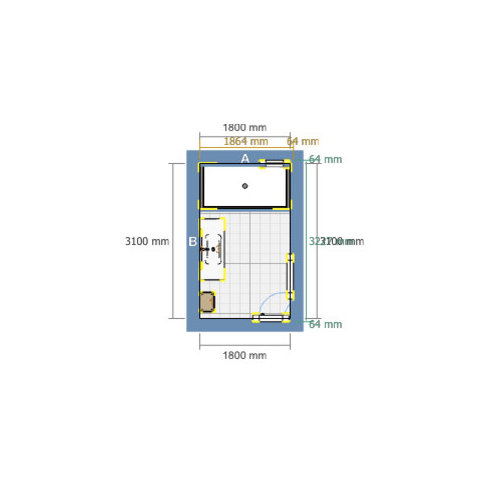 room dimensions are 3080mm x 1800mm. Above is my attempt at design on IKEA bathroom planner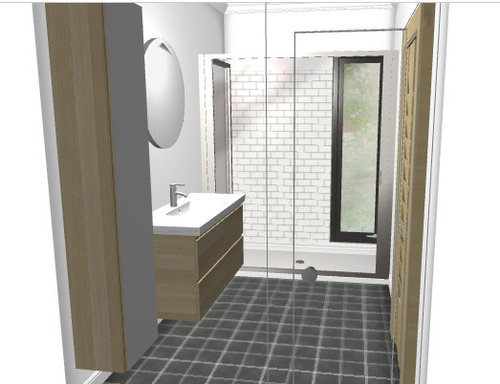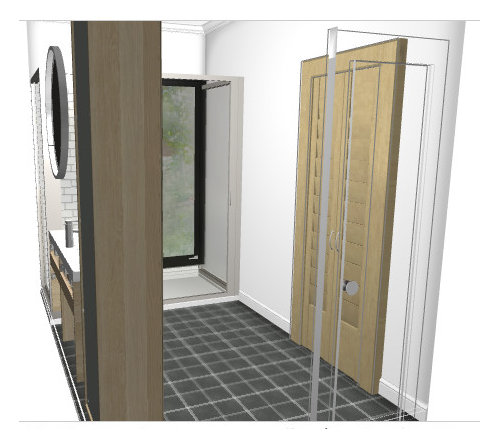 These are the 3D views looking into room from hallway on LH wall and RH wall. Re the window, I was going to get quotes for doing frosted louvred window that is approx. 600mm wide and going to the same height as current window (which is door height). I really still have no idea what colour and type to do the wall and floor tiles or the vanity or the tall cupboard or the laundry cupboard door...i do know that i like white and very light grey, charcoal (maybe), black and timber. Contrary to how the pictures appear, I like timbers such as blackbutt, oak and ironbark look (i think that is what they are). The rest of the house has original mixed hardwood satin floorboards. The doors were made louvred in the picture but i just want them to be plain. My house is 1960's chamfer board and I do have a 1960s buffet in lounge, but the kitchen has been done neutral modern with off white glass splash back. I am thinking now that I need the bathroom to only have accents of 1960's such as the round mirror or some photos to put in it once it is done,
If the louvred window works out too expensive, then I will just close up the window space and put in a solar skylight..the current window is just too wide...it takes up 1080mm on a 1800mm wall and is timber so not conducive to a wet area. The current window is on south side of house and window can't be any higher because it is already just below the roof cavity as the roof is lower there due to the backsteps being behind the window and roofline sloping down at back of house. I had hoped for the window to be louvred in order to still let breeze into the house; also to have some outlook to outdoors when the bathroom is not being used for showering!
I only want to do wall tiles in the shower area and behind the vanity. Maybe also one tile high around the bottom of wall - not sure.
Can someone please provide me with some feedback on this design (oh, I also have pondered whether to change the swing of the door as I can't stand the fact that the door opens onto a cupboard space in the bathroom now) and am not sure whether a cavity door to main bathroom is such a good idea. Also would like to consider putting a toilet whether the wall hung linen cupboard is in the drawing (in years to come, if I ever get an ensuite) and don't want a cavity door making this more difficult to do?
Also, could someone provide advice on:
what tiles and what design to put on floors, in shower area, behind vanity (I also want a nook in the shower for shampoo etc, but couldn't show it on the design). Also, who may sell these in Brisbane.
What colour should I do cupboard doors on laundry cupboard (I am hoping for it to be a timber look but not sure what sort).
What colour vanity should it be? (1200mm long)
What colour wall hung linen cupboard?
What trim should I do on round mirror if any and if a round mirror is even a good idea?
Some combo of black, timber and mirrored finish may work for the above, but not sure how to do it. I had pretty much decided to keep the tap fittings chrome as I suspect the black will date too quickly????? (If the louvred window is fitted, I didn't know what trim to do it - black or white). (All other windows in the house are white casement window - very plain and with white 50mm timber look venetians).
I LOVE the round mirrors but lack of storage is an issue in my house.
My laundry is currently under the house and I currently am using a garden hose fitted to my laundry tap under the house and several shower curtains and a tarp as my "bathroom" under the house, so I will need to get the bathroom done by winter!
I just have no idea how to combine all the colours I like, and keep the bathroom looking interesting and it not ending up too dark or too much of one thing.
Any help from the creative folks out there would be greatly appreciated. (You can see from my idea book 25112016 that I have saved heaps of pictures of ideas).
Help!
This is so hard doing it by myself and when I am not confident in my ideas as well as not over capitalising on my house.