A touch of craftsman and a contemporary area rug and furnishings bring a relaxed feel to this family room. Multiple seating choices gives the family plenty of options to converse and hang out.

This is a fun and cozy family/great room. There's a wide variety of styles, colors and shapes all blended together. Including: Craftsman, Contemporary, Traditional and Mid Century Modern.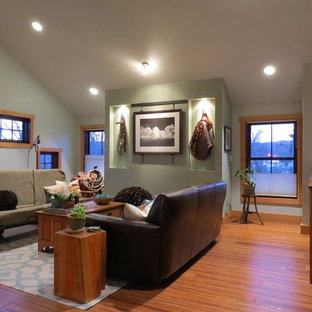 This is our upstairs living room. Since it is right at the top of the front staircase, we call it "the landing". The door to the balcony is just to the left of the red box. The couches were brought over from the living room and guest house at the old house (a few blocks away) as were the oak coffee table and buffet. The end table was made from a chunk of tree (from a log home builder) by Donald (one of the homeowners) back in the 80s with a chainsaw, sandpaper and clear coat. There's another one at the other end of the couch and they've served many purposes over the years (stool, speaker stand, coffee table, bedside table, end table). The feature-wall encloses the chimney and was designed to show off a photograph by local photographer/rancher Barbara VanCleve (originally from Montana, now living in Santa Fe). Chaps and bridal belong to the Mick (homeowner) and are frequently in use.