Staircase
Limestone Staircase Design Ideas with Panelled Walls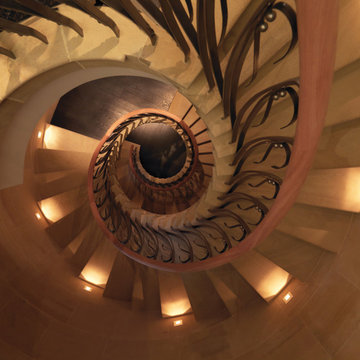 Calderpeel Architects
Four Beeches Inspired by Charles Rennie Mackintosh's Hill House, Four Beeches is a magnificent natural stone, new-build property with a corner turret, steeply pitched roofs, large overhanging eaves and parapet gables. This 16,700 sq ft mansion is set in a picturesque location overlooking a conservation area in Cheshire. The property sits in beautiful, mature landscaped grounds extending to approximately 2 ¼ acres. A mansion thought to be the most expensive home in Greater Manchester has gone on sale for an eye-watering £11.25m. The eight-bedroom house on Green Walk, Bowdon, was built by a local businessman in 2008 but it is now 'surplus to requirements'. The property has almost 17,000 sq ft of floor space – including six reception rooms and a leisure suite with a swimming pool, spa, gym and home cinema with a bar area. It is surrounded by 2.25 acres of landscaped grounds, with garage space for four cars. Phillip Diggle, from estate agent Gascoigne Halman, said: "It's certainly the most expensive property we've ever had and the most expensive residential property in the area.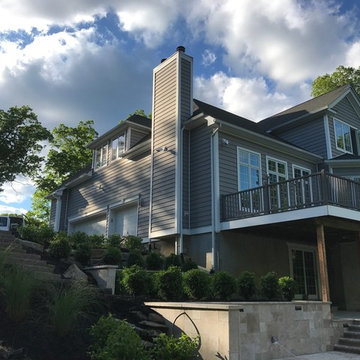 The Amendola Group, Inc.
The rear of this property was basically non-existent falling into heavy woods on a very steep pitch. We tried creating this space with poured footings and walls that go below frost, creating the living space. With the harsh winter of 2017, the weather we encountered did not stop us from pushing through the setbacks to completing this momentous outdoor oasis. We are able to work in all the elements the North East can and has thrown at us. We have an extremely knowledgeable crew and appropriate, well-maintained equipment. Materials such as clear Cedar and Travertine make up the crisp, clean look of this great space!