Pink Kitchen with Laminate Benchtops Design Ideas
Détail du décroché entre la zone de travail et la zone de rangement. Crédit photo: Germain Herriau Direction artistique et stylisme: Aurélie Lesage Accessoires et mobilier: Espace Boutique MIRA, Dodé, Atelier du Petit Parc, Valérie Menuet, Laura Orlhiac, Arcam Glass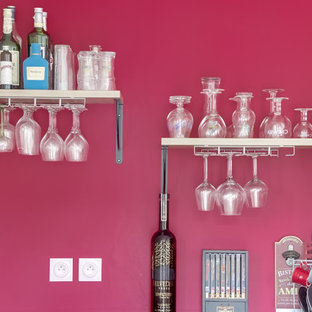 Rangement mural avec une couleur rouge St Emilion pour cette cuisine moderne. Étagères murales aux inspirations bistrot.

This kitchen traded builder grade oak cabinet doors for a fresh and bright rustic style. The Shaker style doors keep the focus on the woodgrain pattern and vibrant colors. The full overlay accentuates the clean lines of this design, furthering the impression of simplicity. Learn more at http://www.kitchensaver.com/kitchen/centreville-va/

Contemporary styled kitchen in recently refurbished 1960's style bungalow. Design features textured concrete effect slab style units with matching bespoke laminate worktops, gloss graphite grey tall housings and full height baby pink toughened glass splash backs and window sill. All appliances with the exception of the cooking appliances are integrated, a wall mounted boiler is also concealed on the far wall. A breakfast bar with seating adds essential preparation/serving space and separates the kitchen from the dining area. Matching doors were made to replace the original pantry and airing cupboard doors.

Полезного места мало не бывает! - именно с таким запросом мы приступили к работе над проектом. Нами было принято решение сделать антресольные шкафы, но таким образом, чтобы они не нагромождали интерьер

Contemporary white kitchen with beautiful detail including over sink lighting, oak breakfast area, glass panelled splash back and wall mouthed mixer tap.

Rocamboles, conseil en décoration d'intérieur et aménagement d'espaces à Lyon