Need help with choosing bathroom layout
Hello everyone,

First time posting so tell me if I get anything wrong.

I'm doing a reno of the main bathroom and I still haven't decided on the layout.
I'm hoping if anyone could help me out.

This is what it looks like right now.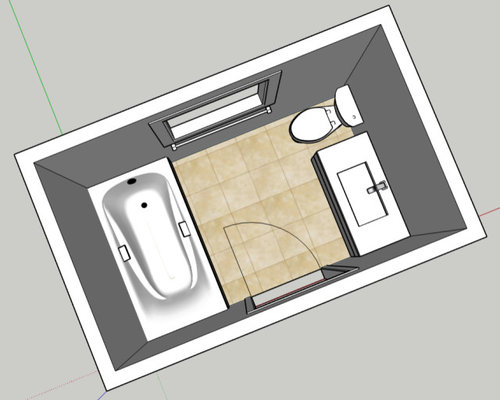 Things that I don't like about it:
Toilet flushing can be heard in the master bedroom
Toilet should be hidden away more?
The bathtub is standard 760 mm, but too narrow for my old grandpa who likes to have water around him while he sits down washing
A little too small vanity (900 mm): limited storage space, small basin
Weird placing of towel rack, have to walk away from the door to dry hands then come back


Here's the best I've come up with.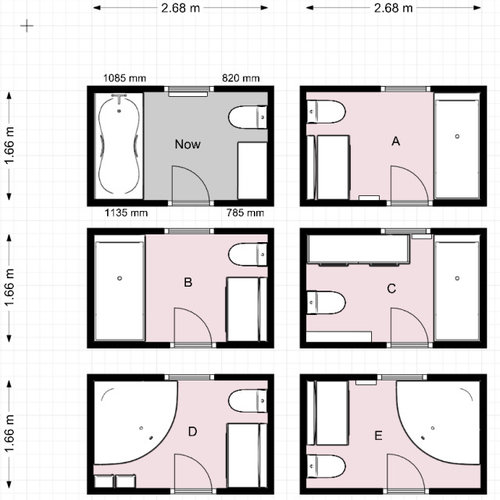 Note: all measurements are excluding architraves and skirting


Toilet: The one's on the left have a similar layout to the current bathroom. The one's on the right have the toilet tucked away behind the door for more privacy.

Bathtub: I'm looking for a wider bathtub (B, 820 mm) or even a corner tub (D/E, 1300 mm). Slightly leaning for the corner tub as it's easier to move arms and legs around.

Vanity: While the rest is a 1200 mm single vanity with a mirror cabinet for storage, C has a 1600 mm double bowl vanity.

You can ignore the little towel rails, shelves and cabinets I've been putting here and there.


Which one do you like? Or do you think something else will be more fitting for us?
I am absolutely open for ideas on storage, and beginning to consider changing the door to swing outwards as I'm reading that they are better for emergencies.

Also, if it isn't so much of a hassle, what things should I must have in a bathroom for the elderly? I'm thinking of non slip tiles and grab rails around the tub.

Any advice would be welcome.

Thank you so much for reading.